Ngari is located in the west of the Tibet Autonomous region. It stretches from west of the Tanggula Range and connects with the tourism areas the northern Tibet, Ngari stretches to the western section of the Himalayas in the west and south. It borders the Kashmir area, India and Nepal.. In southeast if faces the tourism areas to the southern part of Kunlun Range and Adjoins with Xining jiang Uygur autonomous region in the north ,
Ngari, Main senic spots.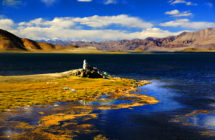 Mt Kailash
The Mt Kailash is located in the purang county about200km from senge Tsangpa Town and 100km from Purang town. it is at the border between China, Npeal and India with an altitude of 6.656m. it is the major peak of the Gandise range. It has more than 250 glacires and aboundant water resources. The Mt Kailash is the most famous holy mountains as well as the source of many large rivers such as the Ganges, the indus ,and the Yarlung Tsangpa River.. The Mt Kailash is in olive shape piercing up to the sky, it is the pilgrimage center of Tibetan Buddhism Hinduism and Bon religion thus it has the nickname of king of holy mountains. It would be a very auspi-cious event if pilgrims can visit the holy mountain in the year of the horse.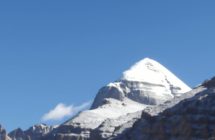 Lake Manasarovar
It's located purang county. The lake is the highest freshwater lake in the world, covering an area of 421sp,km with an altitude of 4.587m, The depth of lake is 77m, as one of the three biggest lake in Tibet, every year a lot of pilgrims come to circumambulate the Lake, especially in the year of the horse..