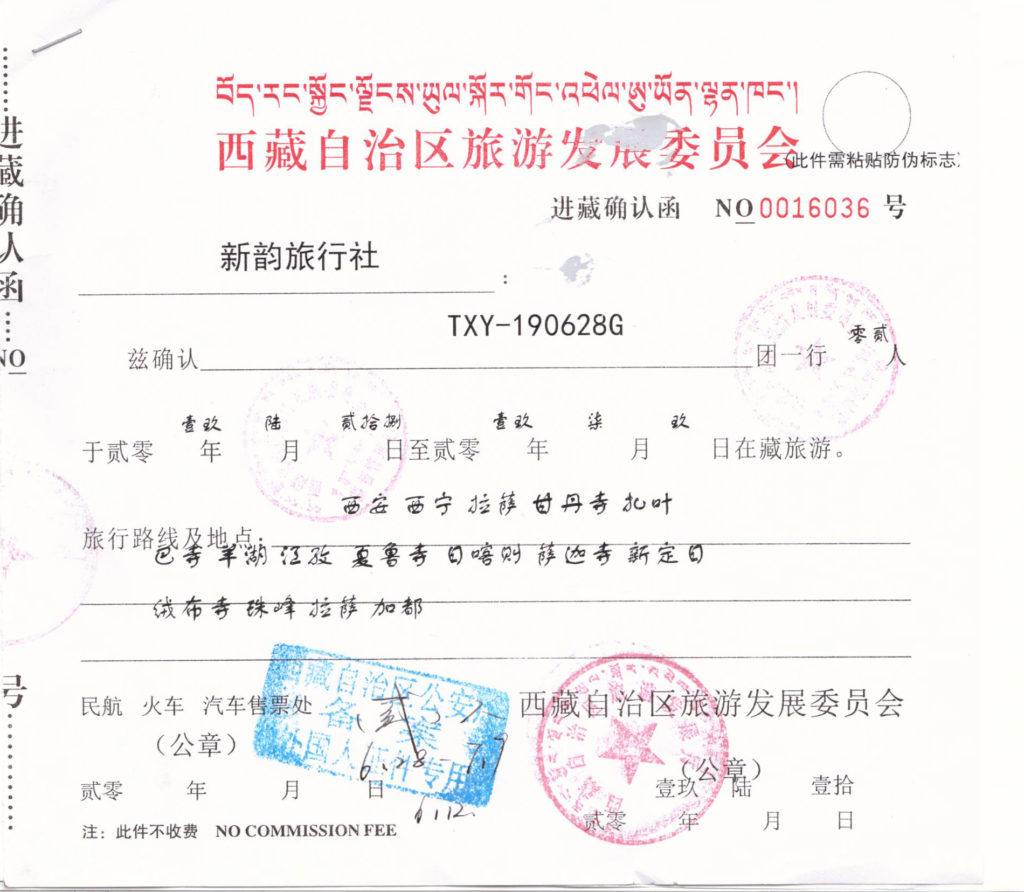 Beside a China VISA, you also need a Tibet Travel Permit (TTP) for visiting Tibet Autonomous Region. You must book your Tibet trip with tibetanguide, we will help you apply your Tibet travel permit. The only thing you need to worry about is sending us a clear scan of your travel documents about 20 days in advance to process your Tibet travel permit (TTP). We will take care of everything after your Tibet Tour booking confirmation.
We need clear scan of your passport and Chinese Tourist VISA (L) to process your Tibet travel Permit. China VISA must be applied at your country's Chinese Embassy. If holding other type of VISA (Z, F, X…), additional docuements are required. Please, contact us for further information. If you are entering Tibet by plane from mainland China, you will need your original a Tibet travel permit to board your plane to Tibet. We will sent it to any address in China that you wish, be it your hotel, a friend's house or any International Airport where you connect with your Lhasa flight (additional fee apply for aiport delivery). We require address detail information in chinese, telephone number, and the name of person who apperars in the hotel booking (including booking code number). Be aware you can not flight to Lhasa directly from your home country; but we can also deliver your TTP at most of China's International Airports for additional fee. If you are arriving by train, you will only need a photocopy of your Tibet travel permit. We will send it by email so you can print it.

If you want to enter Tibet from Nepal, chinese visa must be applied At China's Embassy in Kathmandu. We need precise itinerary during your stay in China to apply for your China VISA and Tibet Travel Permit. You must be sure about your itinerary as your visa will only permit you to stay for this set number of days. It cannot be extended later on when you are in Tibet. The visa that you will get is a group visa for all the people on the tour and it cannot be separated. This group visa allows you to continue trip to mainland China after Tibet too. So please, let us know all your travel plans, including departure flight information from Mainland China so we can apply for your China VISA accordingly. When we have a clear scan of your passport and itinerary, we will send a visa application to the chinese embassy in Nepal. Once you arrive to Kathmandu, our partner at Nepal will go to the chinese embassy to get the visa with your original passport. Bear in mind that the we need at least three working days to be able to get you visa and it costs around 110 USD for most passport holders (little more for USA, Argentina, Brazil, Canada, Romania & some other countries). Please, contact us for further information.